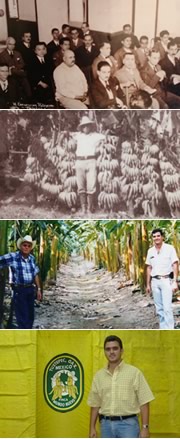 With more than 80 years producing banana and plantain, the Finca Mundo Nuevo, have been constantly worried in implementing improvements for its harvest, since its beginnings, their founder, Mr. Aureliano Perez Maciel, as well as later, their son, Mr. Reynaldo Perez Franco, and at present time, their grandson, Mr. Humberto Perez Morales along with its sons Humberto and Jose Julian Perez Alonso, have worried in knowing and applying the required packing sanitary and technical rules of the United States, Canada and Europe; all it in order to export its products successful abroad.

At Finca Mundo Nuevo at the moment it produces fruit with international quality, by means of the application of the highest technology and of an ideal infrastructure to obtain the goals and commitments made.

Thanks to this, the MUNDO NUEVO products have been able to penetrate and to remain at the national and international markets.


© Copyright 2007 - Finca Mundo Nuevo. All Rights Reserved.